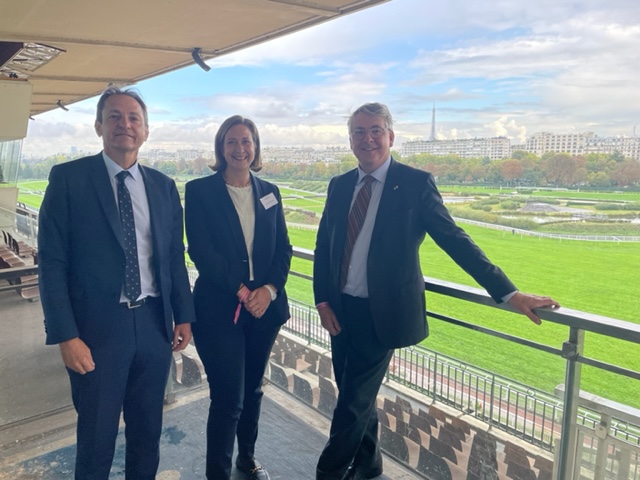 A great networking lunch at the Hippodrome d'Auteuil enjoyed by over 70 NetworkIrlande members and guests.
Of the many sports, traditions and activities that bring the French and Irish together, horse-racing has to be one of the most spectacular and the most exciting so it was very fitting that NetworkIrlande celebrate the rentrée with a 'Lunch at the Races'. The event attracted over 70 NetworkIrlande members and guests to the Hippodrome d'Auteuil on Thursday, September 29th , to renew old acquaintances, make new contacts and of course try their luck at the tracks!
We were honoured with the presence of H.E. Mr. Niall Burgess, Ambassador of Ireland to France, who shared some interesting facts during his welcome address. Notably that thoroughbred horse breeding in Ireland is an industry that represents 1.84 billion in turnover employing 29,000 people both directly and indirectly. Ireland is the third largest breeder of thoroughbred foals in the world and the second largest seller of thoroughbred stocks at public auction in the world after the United States. Also, Ireland sells more racehorses to France than the rest of the EU combined!

Lisa-Jane Graffard of Graffard racing then gave us a lovely insight into her experience of the horse-breeding industry and her career which includes being one of the first students chosen for the 'Godolphin Flying Start' program created by Sheikh Mohammed Al Maktoum, later becoming Godolphin's representative in France and now working with her French husband , Francois-Henri Graffard at Graffard Racing, with a racing stable of 200 horses based out of Chantilly. Another very successful example of Franco-Irish collaboration!

Guests were then given a brief tutorial by France Galop staff on how to place bets and the champagne reception gave way to our lunch. Excitement was high throughout as guests made use of our private tribune to follow the fate of their chosen favourites during a very exciting steeplechase program.

After lunch, guests were treated to a fascinating private tour of the Hippodrome with access to many areas normally off-limits to visitors.

We thank all our members and guests for joining us for this very enjoyable event with special thanks to our generous sponsors, EQUANS, PARAGON ID and ENTERPRISE IRELAND.