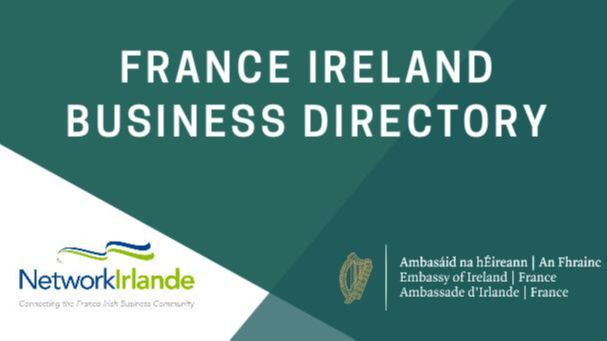 Veuillez cliquer
ICI
pour ajouter vos coordonnées à l'annuaire des entreprises franco-irlandaises.
The France Ireland Business Directory is a joint initiative by the Embassy of Ireland in Paris and NetworkIrlande to showcase Irish businesses operating in France.
We believe that this directory will serve as an important information source for Irish businesses currently operating in France, and for those wishing to engage with them. At this exciting time for trading connections between Ireland and France, our closest EU neighbour, opportunity beckons! Our shared participation in the EU Single Market and the many new direct maritime routes – approximately 40 crossings per week – linking our two countries, create new prospects for growth in trade between Ireland and France.
The aims of the directory are to:
Encourage trade and investment between Ireland and France;
Demonstrate the scale and distribution of the Irish business community in France;
Foster greater synergy among the Irish business community in France.
We hope that established Irish businesses in France, Irish businesses considering entering the French market and French businesses with significant Irish trade can use this new platform to their advantage. The directory will provide the opportunity for networking among the Franco-Irish business community, connect new businesses to the wider Irish business community in France, and help Irish companies to attract new clients.
In short, we believe this directory is a positive initiative that will provide support for businesses, and equally give all of us a greater insight into the Irish business community in France. We therefore warmly invite you to join this directory by signing up here. The directory will be a live document hosted online, which can be updated by you in real time.
If you have any queries or wish to discuss this initiative further, please do not hesitate to contact our colleagues at the Embassy FranceIrelandBusinessDirectory@dfa.ie or at NetworkIrlande admin@NetworkIrlande.com
Thank you for your continued support.
Yours sincerely,
Patricia O'Brien
Ambassador of Ireland to France and Honorary President, NetworkIrlande
Richard Dujardin
President, NetworkIrlande