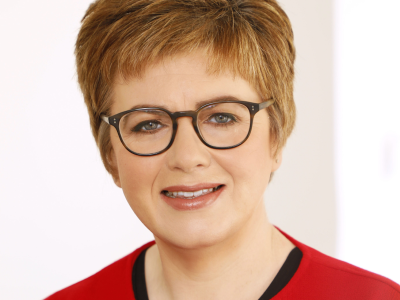 Margot Slattery dans le Top 10 du Top 100 des dirigeants LGBT pour 2018 !
Margot Slattery, country president, Sodexo Ireland appears at No.9 on the list of Top 100 LGBT Executives for 2018, her fifth year in a row to appear on the list, which forms part of the recently published OUTstanding LGBT+ Role Models 2018.
Margot sits on Sodexo's global LGBT leadership team and has been influential in ensuring LGBT considerations are included in Sodexo's Global D&I strategy, and that practical guides to LGBT inclusion have been developed for use across the globe. In the last year, Margot spoke at 19 external events in Ireland and worldwide, promoting LGBT equality in the workplace, including the Out & Equal Summit in Philadelphia, The Alliance Conference, Portugal and the Women's Philanthropy Circle, Dublin.
In 2018, Margot was FM Leader of the Year at the Facilities Management Awards for Ireland and a Business Leader of the Year at the Women's Executive Network (WXN) Ireland Awards.
Margot Slattery, country president, Sodexo Ireland, said: "I'm humbled to be placed so high among these fantastic LGBT role models. Creating a culture where everyone feels comfortable to bring their whole self to work is all of our responsibility, so while I'm honoured to be included here as a role model, it's important to remember that every single one of us has a part to play in making the workplace both inclusive and successful."
Outside Sodexo, she is chair of the OUTstanding Ireland Steering Committee and her board memberships include Out and Equal Workplace Advocates, the Dublin Chamber of Commerce and Sofinsod Insurance DAC. For more information about the OUTstanding LGBT+ Role Models 2018 visit https://www.out-standing.org/nominations.